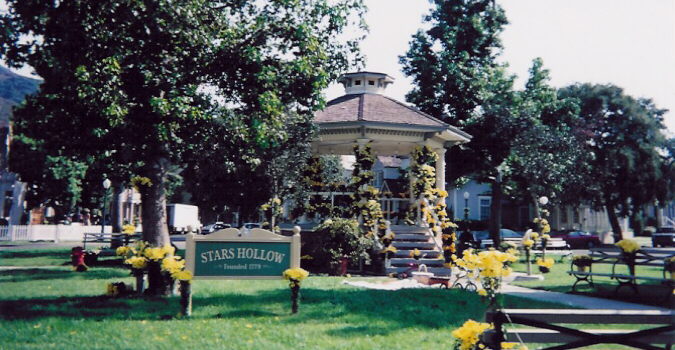 "Gilmore Girls" is probably my all-time favorite TV show, and the town of Stars Hollow has always reminded me of where I live.
I live in a very small Cape Cod town. How small is small? Well, we have one traffic light, and it only flashes, it doesn't change. We have a general store that hosts a coffee hour for older gentlemen at the crack of dawn every morning. We have a hardware store, some small markets, (you have to go to another town for a Stop and Shop or Shaw's)a plethora or antique stores, a post office and some banks.
And we have a lot of characters.
Last night I started my evening at a business networking/social event and met some amazing people, like a woman from
Champ Homes,
an organization that helps homeless people get into secure housing. She was completely inspiring. I had fun talking to some other people, but had planned to sneak out early to go to a local open mic night run by a friend of mine, folk singer,
David Roth
. I'd planned to go alone, but my friend Diane, an amazing
yoga
teacher, jumped up and said she'd love to go. So off we went.
As with any open mic night you never know what you're going to get. When we walked in a man was sitting in front of the mic with a guitar and telling the story of a breakup that then led into a very sad song about how once his girlfriend and her Milk Bone eating dog were gone how much he missed her.
After him a group of kids sang a song they'd written with David in a song writing workshop with him about the gift of having a home. Total choking up moment for sure.
Next up was a woman who sang a song she wrote for
Chrissie Hynde
about how in her mind Chrissie is a lesbian only sleeping with women like Joan Jett. It was actually a pretty catchy tune.
It was jarring however to go from the electric guitar musings of rock and roll lesbianism to an older gentleman and his concertina singing about John Barleycorn. At this point Diane and I began to lose it. Seated in the back of the room we tried to discretely hide our escalating silliness, but it was a challenge. I'd pulled out my ever-present reporters notebook from my bag (I didn't want to forget a moment of this evening) and we began writing notes back and forth like we were in middle school.
"This is a perfect example of the whacked patriarchy that could make a woman lose it for Chrissie Hynde" she wrote about the Barleycorn man.
Or after one particularly not-so-great ditty when she wrote to me, "Can I just say, holy shit?"
The icing on the cake however had to be a semi-pornographic poem one man got up to read about clams. Yes, clams. It was actually pretty clever and by the end I was feeling kind of... hot. And craving melted butter.
As we sat there, trying to be good audience members, a very warm, non-clam related feeling came over me. As I looked around I thought only in a tiny town in New England could you have a evening like this. An evening that registered somewhere between a
Dali painting
and a sitcom.
In my town we may not have a movie theater, an art museum or even a Starbucks, but hey, we've got folks who write about clams, Chrissie Hynde and even if they can't sing a note are brave enough to get up and give it their all.
I'll be sure to be there the next time, sitting in back and trying to be good, but no matter how amusing some of it is, I love that I live in a place where people can be themselves, no matter how odd that may be.